Brigitte Willers, Watercolour Artist
Personal choice, my vocation took hold my early childhood, with the need to act without constraints…
My first studies were fuelled by observation, contemplation. As a child, I chose to copy the masters, using gouache and a very personal interpretation of Impressionists such as Monet or Cézanne… 
The urge to discover the world of painting through various techniques such as oil, acrylic, pastel, inks…
I came to watercolour quite naturally and I quickly noticed that I had a lot to learn. After a period of trial and error, I was quickly won over.
Since then, I ceaselessly rediscover it… Watercolour harbours so many secrets, it is for me the most accurate means for a real communication between artist and matter… The brush is then the carrier of this communion, like an instinctive extension.
Feeling at one with it, with the water, the matter, the mineral, the vegetal.
Watercolour is a victory endlessly renewed, which I live with passion and share.
Stepping aside and breathing
Each year brings its crop of doubts and satisfaction, the need and urge to launch into new challenges.
Since 2009, my approach to my subjects has evolved. I felt the need to use larger formats and framing, to choose a detail and study its composition. In other words, to see differently.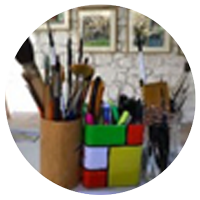 Fine tune my technique, go straight into the heart of the matter to grasp its beauty and its complexity.
A deeper observation, which enables me to gently penetrate another perception of things.
This way a complete new universe reveals itself, when one zooms on a subject and points out its finest details.
The year 2012 saw figures appearing in some of my watercolours. Before then, their presence was only hinted at through settings and ambiances. From then on they became the main focus, which alters the feel of the painting.
My journey brings me to express the beauty of each object, as we see it, touch it and feel it in the constantly changing light effects.
Colour is by excellence the part of art which holds the magic gift. While subject, form, lines aim firstly at our thinking, colour has no meaning for intelligence, but it has all powers over sensitivity
Eugène DELACROIX
Exhibitions
1982 to 1985 : At Gallery "Bois Chenu" in Barcelonnette (04)
1989 : At the Tourist Office in Sauze (04)
1990 : At  "Scoop" in Gap (05)
1991 : Exhibition "Les Couleurs de l'Espoir" (Colours of Hope) at UNESCO in Paris
1992 : Exhibition in association with painters Cécile Mimet and Enide Benhamou in Barcelonnette (04)
1992 to 1995 : Mural paintings, Arts-déco, in collaboration with Leslie Bonnet, architect in Digne (04), Barcelonnette (04) and Aix-en-Provence (13)
1995 : Execution of a 6 m x 1,50 m scenery for the "Maison de la France", 5th Avenue in New York
2002 : Solo exhibition at Lauderdale House, Highgate, London
2003 : Exhibition as part of the First International Festival of Intimist Films in Sanary (83)
July 2003 : Solo exhibition at the Wine Museum in Chateauneuf-du-Pape (84)
2003 : Exhibition as guest of honour in St Saturnin-lès-Apt (84)
2012 : Exhibition as guest of honour for the association « Courants d'Arts » in Genas (69)
2012 : Exhibition at the Saint-Ferréol Chapel in Viens (84)
1996 to 2016 : Annual Solo Exhibitions in August at the « Four à Pain » in Viens , Luberon (84)
2017 : Exhibition at « l'Atelier de la Forêt » in Viens (84)